Naftule and the Children (en)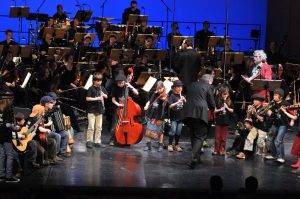 2009/10 Helmut Eisel's second Naftule-adventure was born as a common project of the Weimar Staatskapelle and the primary school "Christoph Martin Wieland" Weimar (Jenaplan). The world premiere took place on may 16th, 2010 at the German National Theatre Weimar, accompanied by frenetic applause.
Diashow "Naftule and the Children" in Weimar
Audiocritic (German)
of the HR2 about the performance in the Frankfurt Operahouse



Orchestration
2(incl.Picc.). 1.CA. 2. 2. – 3.2.2.1(solo). – Pk.2drums –Str.
orchestra/band of 15-25 children (7-14 years), any instruments
guest soloist: klezmer clarinet (Helmut Eisel)
Audio samples (live in Weimar 2012):
Schulhof in Sinfonien | Trommelschule | Sinfonien droht Gefahr | Trolls Zauber | Vollkommene Musik? | Mozart zum Aufwecken |
Es geht um alles oder nichts | Troll lacht | Trolls Freilach
The special thing about "Naftule and the Children": here the young instrumentalists are not just joining into what the adults are doing, they are – musically as well as in the story – accomplishing a very decisive part, individually tailored for them by the Klezmer Helmut Eisel. Their task is to make the adult people of Sinfonia play again – by improvisation and creative ideas and completely without written music, which a vicious magician made disappear.
The piece is written for an ensemble of 15 to 25 children (7 to 14 years), completely flexible in the combination of instruments involved, and symphony orchestra. Helmut Eisel is again playing the part of Naftule, and a speaker is the "translator" Pino.
The children are prepared in 3 improvisation-workshops together with Helmut Eisel, by learning and playing small Klezmer-pieces within their school orchestra rehearsals or in a special working group during the school year and by jumping into the story.
The orchestra-parts are self-evidently completely written down – without any improvisation.
For more information, music, etc. please contact [email protected]