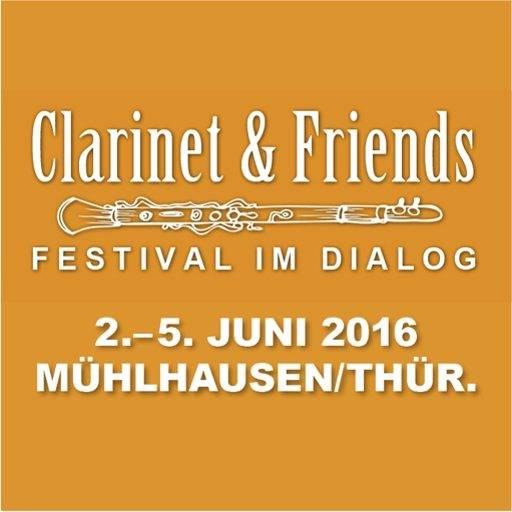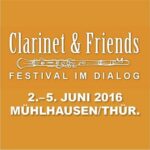 In 2014 Helmut Eisel together with cultural manager Kerstin Klaholz founded "Clarinet & Friends", a "festival in dialogue" in Mühlhausen/Thuringia (Germany), which celebrated its successful premiere in june 2015 and will take place for the second time from june 2nd to june 5th 2016.
More information (in German) and the actual program of the 2016 festival  can be found here:
"Clarinet & Friends" ist built around the idea of music as a form of communication: communication between the musicians on stage, communication beetween stage and audience, communication between musicians, visitors and the festival location. In every topic of the festival agenda the public is addressed in a very personal and creative way.
All these aspects are completed by another bridge building between professionell musicians and hobby-music-enthusiasts: In several workshops festival visitors get the chance to try out and work on specific themes, styles and musical pieces, which in the evening become a small but essential part of the concert programme: The highlight of every concert is the common performance of those pieces by the whole workshop group, which is thus becoming co-creator of the festival. The audience on the other side is experiencing at first hand, how music is developping freshly and from the intuition of the moment.
Stilistically openness and diversity are the premises of "Clarinet & Friends". The principle of dialogue is applied here as well: Musical pigeonholing is supposed to be avoided, and we are even trying to directly work against it. The clarinet – virtually the "mouthpiece" of all these ideas – is in the focus; arround it though countless other instruments and even voices are gathering and joining the dialogue, so there are no instrumental limitation in concerts as well as in workshops.
"Clarinet & Friends" is also seeking the dialogue with the town of Mühlhausen and its many attractive concert locations. Festival visitors from all over Germany and even from abroad, who come to Mühlhausen to take part in workshops or listen to concerts, get the chance to complete their workshop- and concert-calendar with special touristic offers.
Music enthusiasts from Mühlhausen and around on the other hand get the opportunity to meet like-minded people, to play music together and to actively hel shaping "their" festival by playing together with professional musicins on stage. A musical church service and the final concert, conceived as an open air party for the whole family ("Get Together, Play Together") additionally integrate the festival into social life: ensembles, bands and choirs from Mühlhausen and the area – children, teens, adults – get the opportunity to present themselves and their music on an "Open Stage", to communicate together and among each other by the means of music.
You feel like being part of it and want more information?
Contact us via [email protected]
We are looking foreward to meeting you in Mühlhausen!
More pictures of Clarinet & Friends 2015 can be found HERE (photos: Iris Henning)