Naftule and the Journey to Jerusalem (en)
We completed the triple! In september 2012 Helmut Eisel's third Naftule-story "Naftule and the Journey to Jerusalem" celebrated its premiere in a small version for Klezmertrio and speaker in the Widukind-Museum in Enger.
The large version for symphonic orchestra, klezmer clarinet and speaker followed in spring 2013 in Göttingen and Weimar, conducted by Martin Hoff.
Orchesteration
2(incl.Picc.). 2(incl.CA). 2(incl.Bassclar.). 2(incl.Cbsn.) – 2.2.1.0 – Timp. 3drums – Str.
guest soloist: klezmer clarinet (Helmut Eisel)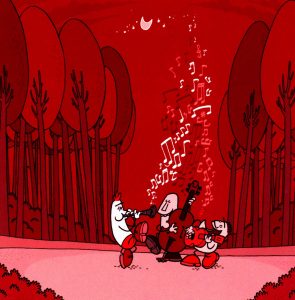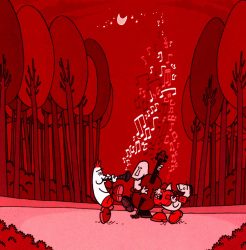 And what is the story about?
In the beautiful country of Sinfonia people are speaking not with words but in the language of music. As they learned their mother tongue from early age, they know to use it in a really virtuoso manner. The clarinet player Naftule though has a hard furrow to plow. He doesn't neatly repeat the fixed musical arrangements (as it would be good custom in Sinfonia), but he prefers to play by the seat of his pants, according to his mood and instinct. Geez! A genuine Klezmer!
This just can't go on like that. By order of King Waldemar, Naftule – together with the illustrious translator Pino – is sent out on a journey. The two guys are supposed to explore how people communicate in other parts of the world, and they are asked to tell people everywhere about lovely life in Sinfonia.
On their way Naftule and Pino meet people from various cultures. Using a flying melody-carpet they are travelling to the Ukraine, the USA, to Argentina and finally even to Israel, the "cradle of manhood". Thanks to his music Naftule is always quickly able to make new friends. Nevertheless the odd couple is slithering from one adventure into the next and committing one blunder after the other, as they just don't know the morals and customs of foreign cultures. How long will this go well…?
"Naftule and the Journey to Jerusalem" is a extraordinary piece, because without the audience the most beautiful music would probably fizzle out in some desert and nobody would ever learn, if Naftule and Pino managed to return to Sinfonia. After all: who communicates by means of music, needs listeners! Therefore in this concert it is the audience – singing, mooving, giving their energy – who is again and again pulling Naftule and Pino out of the mess and sending them to the next destination of the trip.