Naftule and His Majesty (en)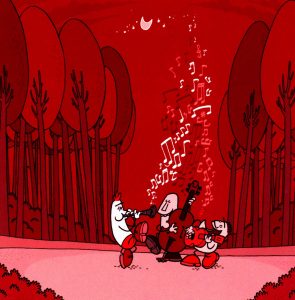 Naftule is a young musician, who plays the clarinet – not really the way his grandpa wants him to, but nevertheless he plays pretty well! That's the reason why Naftule's band is loved by all teh girls – especially in Sinfonia, a country where nobody talks, but where people communicate via music.
King Waldemar reigns Sinfonia and he loves only written notes and dislikes folk improvisation and "wild" songs. His beautiful daughter, Princess Verle, is supposed to marry Pjotr, a stark and stiff Earl. But what will be, will be: jewish musicians, called Klezmorim, the trio around Naftule, play at the marriage. Unfortunately Naftule and Verle fall in love with each other… that causes lots of trouble! But as it is in fary tales: everything turns out allright!



Orchestration
3(incl.Picc) 2.CA. 2.Bassclar. 2. – 4.3.3.1 – Pk.3drums – Str.
Soli from the orchestra: Double bass, bassoon
guest musicians: Klezmertrio (Helmut Eisel & JEM) and Jazz violin



In December 2004 "Naftule and His Majesty" was premiered by the RSO Saarbrücken conducted by Marcus R. Bosch, Helmut Eisel & JEM (feat. Jazz-violinist Carolin Pook) and Michael Quast (speaker).
Audio samples from the CD "Naftule and his Majesty"
Sinfonien | Die Klezmer | Waldemars Trick mit den Löchern | Das Hochzeitsfest | Naftules Ballade | Die Entrüstung
The Speaker's Text in German, English and French
This is the adorable booklet by Flix dealing with the backgrounds of Naftule's career.