Rhapsody for an Unknown Klezmer (en)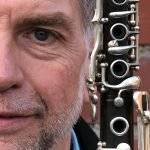 For my friend and teacher Giora Feidman
Dedicated to all Klezmorim persecuted and murdered in Shoah
Symphonic Suite for bassett clarinet and orchestra
Orchestra: 2.2.2.2. – 2.0.0.0. – timp/dr(2-3) – strings 10.8.6.5.5
Duration: 34 minutes (from 2014: revised version, duration: 25 minutes)
premiered by the Staatskapelle Weimar, conductor: Stefan Solyom (may, 8th and 9th, 2011)
German review of the world premiere of Helmut Eisel's "Suite for an Unknown Klezmer"
By lots of enthusiastic reactions Helmut Eisel feels encouraged to broaden his musical horizon. This implies new compositions for klezmer clarinet and symphonic orchestra. With Helmut Eisel's supremely personal style the classical orchestra sound gains new, yet unheard intensity and expressiveness.
Klezmer music is extensively new territory in the contemporary music life of Israel, as the proud Hebrew culture used to disparage the marriage dances of traveling ensembles in the east-Euro-pean shtetl as "vagabond's music". Only for a small number of years the interest in klezmer music is now growing also in Israel – and the richly traditional genre is even getting in dialogue with symphonic music, with elements of jazz as well as with national idioms.
In 2007 and 2008 Helmut Eisel as "non-Jewish klezmer" was honored with Giora Feidman's commission to compose several pieces for the Safed seminar's concert in the Holocaust memorial Yad Vashem in Jerusalem and to perform them together with Jewish musicians, including Feidman himself. "Phoenix" was one of Eisel's compositions premiered in this context.
In Helmut Eisel's "Suite for an Unknown Klezmer" for bassett clarinet and orchestra, "Phoenix" has now become part of a symphonic transformation of the composer's experiences and encounters during his visits to Israel. While part one of the composition – "Safed" – has for subject the workshop atmosphere and the inspiring energy of the students, in part two – "Yad Vashem" – the challenge of an encounter with history is revealed especially by the highly emotional medium of music. While marching drum and Arabian drum desperately retain the contrast and conflict of western and Arabian elements, while they paralyse vitality and rational thoughts, the klezmer is stuck in silence, unable to play, facing the atrocities of Shoah, unable to "sing" with his intimate voice…
If you are interested to perform the "Suite for an Unknown Klezmer" please ask us to send you a pocket score.