Time Change – Mozart meets Klezmer (en)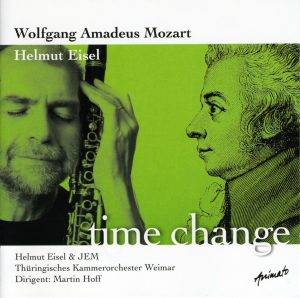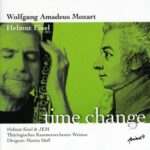 Helmut Eisel's excitingly unconventional, deeply personal interpretation of Mozart's clarinet concerto is also alavailable on the CD "time change". The recording, including three more Mozart-inspired pieces – "Mozart Kugl", the "Fantasien beim Kegeln" (Bowling Phantasies) and the jazzy Adagio in a Trio veresion – was realized together with the Thuringia Chamber Orchestra Weimar, conductor Martin Hoff and the Trio Helmut Eisel & JEM by the renowned Bauer Studios Ludwigsburg.
Helmut Eisel, bassett clarinet
Thüringisches Kammerorchester Weimar, Martin Hoff
Michael Marx (guitar / voice), Stefan Engelmann (double bass)
Audio samples from the CD "time change"
The term "klezmer", far beyond aspects of style and interpretation, points out a musical attitude of living. The roots of the word Kli-Zemer consider the musician as a channel for music, as somebody who doesn't "make" music, but passes it on to the listener and conveys its beauty.
Every interpreter, every musician has his individual context. For Helmut Eisel, a musician rooted in the philosophy of klezmer, it is substantial to bring to live the richly applied communication between the instruments in Mozart's music and to get into dialogue with the composer himself as well as with his piece. Therefore in some parts he keeps close to the admired original, but in others takes it as point of departure for improvisations, springing from the inspiration of the moment and therefore sounding new and different in every single performance.
Mozart himself provably loved improvising and often conquered wide areas of freedom in his own playing – even in concerts. Traditional forms he understood as a base; to control them sovereignly, so that on this ground the acquainted and familiar would become unique by building variants and surprising ideas and inspirations, meant the real creative genius to him.
"Freie Presse" on a performance in the Nikolaikirche Freiberg (Sachsen), march 23d, 2011
… Mozart's concerto for clarinet and orchestra was though electrifying. Clarinetist Helmut Eisel interpreted the piece in a highly individual way, therefore deviating more than once from the original. Eisel created an exciting, throughout melodic amalgam of classical music and Jewish klezmer with a light touch of jazz. Expressive, at the same time deeply moving, was for example the 6/8th Rondo at the end of the 3rd movement. Helmut Eisel's clarinet seemed to chat with the orchestra, then to quarrel and mock, it somewhat laughed at them, just to finally become reconciled – that was brilliant…
Personal letter of Dr. Dieter Graumann, President of the Central Council of the Jews in Germany 2/2011
… This symphonic achievement is indeed extraordinary and impressing. I regarded the characteristic klezmer elements as translation of Mozart into the Yiddish language. This really is a musical innovation and delight for the senses…