"KlezFiesta!"
30 years Helmut Eisel & JEM - new program starting in autumn 2018!
Helmut Eisel - clarinet
Michael Marx - guitar / vocals
Stefan Engelmann - doublebass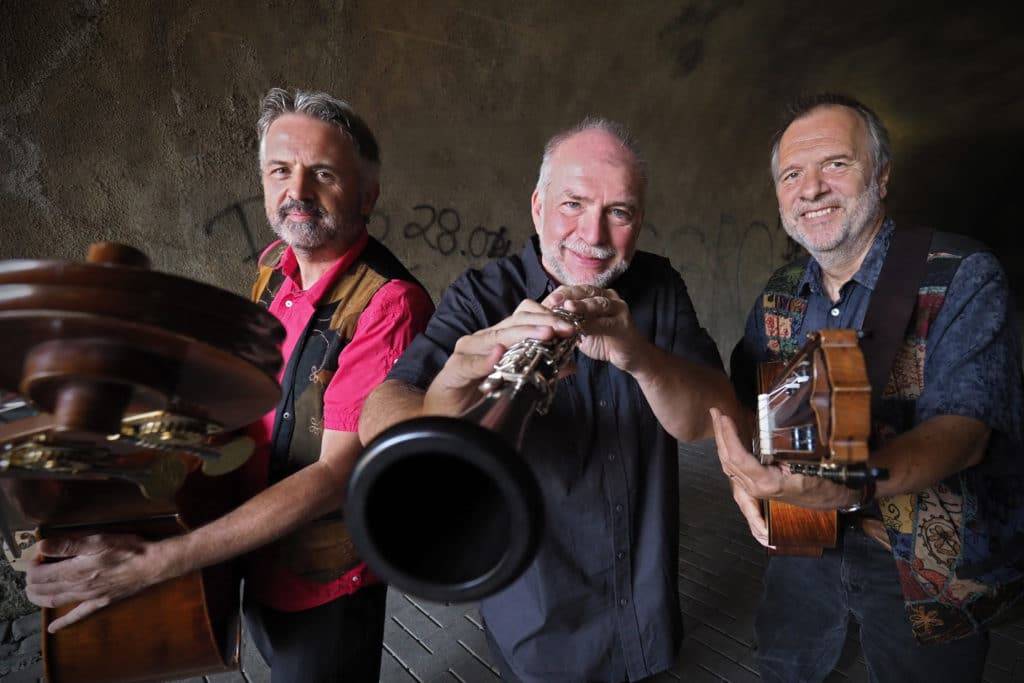 Classical music, jazz, swing or klezmer? The clarinet is considered to be the instrument with the most multi-faceted range of timbres straight across all musical genres - and this is especially prroved, when Helmut Eisel makes the instrument tell storys in the language of music right in front of you on concert stages.
The trio Helmut Eisel & JEM is now on tour with their new program "KlezFiesta!"
Together with Michael Marx on the guitar as well as with mesmerizing vocal scats and with Stefan Engelmann on the doublebass they are searching roots especially in old sephardic Klezmer traditions from the southern European countries.
Spanish inspired compositions from their own studios are moreover combined with well humoured versions of "classical" pieces from the south - bringing  you the perfect holiday flair on any concert stage. Music, inviting the audience  once more to prick up their ears, to marvel, to swing!
With "KlezFiesta!" Helmut Eisel & JEM unleash an Party of senses, in which the intensive dialogue of clarinet, guitar and doublebass makes the air pulse and shimmer!
Here is the first press review of the new "KlezFiesta!" program: Nienburger Volkszeitung, 28.10.2018
And here come a first Video Preview of  Helmut Eisel & JEM "KlezFiesta"
Here is a video sample of the previous JEM-program
Helmut Eisel & JEM "Don Juan à la Klez"
And here some of the titles:
Still part of the JEM-program: the Mozart-Adagio, recorded on our CD "time change"
Concert reviews (German)
Reviews about our CD "Klezmer in the Air" (2013)

CD's:
CD "Forget the Tears" 1992
CD "Klezm'n Soul", 1994
CD und Notenheft "Israeli Suite", 1996
CD "Passions for Klezmer", 1998
CD "Broken Silence" 2000,
CD "Hot Klezmer Clarinet" 2003
CD "Midnight Dreamer" 2005
CD "Clarinet Colours" 2008
CD "time change" 2010
CD "Klezmer in the Air" 2013
Concert venues (selection)
Mittelrhein Musikfestival (Schloss Stolzenfels), with Iris Berben
Breslau, Synagogue "White Storch"
International Klezmer Festival Fürth
Kulturkirche St. Stephani Bremen
Mozartfest, Würzburg
Domfestspiele Bad Gandersheim
Rheingau Musik Festival
Festival "Shalom", Warshaw
Klezmer Festival Safed, Israel
Schleswig Holstein Musikfestival
Akademie der Künste, Berlin
EBU-Contemporary Folk Festival, Roskilde/Dänemark
Festival "Le Mur du Son", Marseille
Markuskirche Hannover
"Jazz live with Friends", SR
Festival Folkwoods B.A., Eindhoven