Helmut Eisel & Sebastian Voltz (en)
"Grooving Klezmer"
Helmut Eisel – clarinet
Sebastian Voltz – piano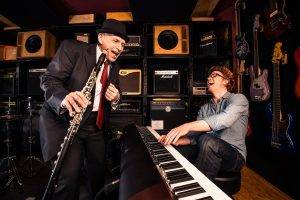 Have you ever heard any concert as witty and full of surprise as the performances of this duo? When Helmut Eisel (clarinet) und Sebastian Voltz (piano) enter the stage there is at least one thing to take for guaranted: Whatever those two individualists are going to present to their audience will for sure not be pigeon-holed in any musical and stylistic category.
Eisel & Voltz make it fascinating to listen and follow their paths, and though the inexhaustible fundus of Robert Schumann's melodies provides them with one or another inspiration, the duo, music-making, easily throws over romantic contemplativeness – in a virtuoso manner, bursting with energy and always with a glimpse of humour. This is definitely raising the spirits!
In Sebastian Voltz Helmut Eisel has found his congenial counterpart: one who creatively pits himself against the clarinet and who is giving fire to the dialogic interaction with jazz-inspired twists and turns. Eisel & Voltz forthrightly challenge their listeners to hear apparently familiar music with new ears – stunning, compellingly vivid and for sure new and different with every performance.
With his talking clarinet Helmut Eisel is considered one of the best and most inventive clarinetists both in Germany and in Israel. His individual sound creates a new interpretation of Robert Schumann's music.


Videos
My Way, Jerusalem (Beit Avachi, 8/2015)
Two Sides of Jerusalem / Babsi's Freilach, Jerusalem (Beit Avachi, 8/2015)
And here is a short Video documentation
Helmut Eisel & Sebastian Voltz – Jerusalem 2015